Welcome to the Troop 964 Website!



                                 Thank You To All Who Attended This Years Annual Train Show - Pictures Can Be Found To The Left Under Photos!                                             

                               


                                                    16th Annual Train Show - MARCH 8TH AND 9TH, 2014

 
> Each year Troop 964 showcases model trains from several clubs in Virginia and neighboring states
> Seven train scales/formats are represented
> Railroading Merit badge courses offered. Each Scouts completes the Merit Badge at the show
> Miles of track and extraordinary displays (Six rooms, including the gym)
> Food refreshments are available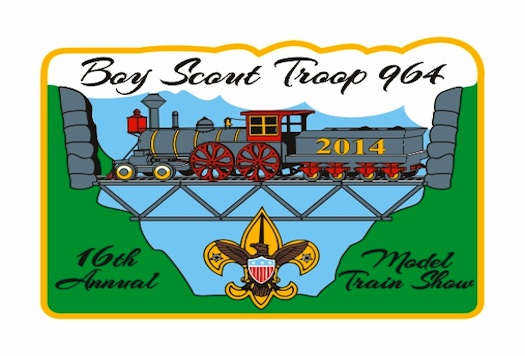 Click on the menu item on the left, the patch or here for details of the 2014 show information.


      Check Out The Pictures From Prior Years Train Shows By Selecting Photos On The Left 
Troop 964 is boy-run, has 30 scouts, camps each month and attends summer camp each July.  The troop is dedicated to instilling scout values and building character, and emphasizes leadership and self-reliance.  Scouts learn essential skills through advancements and study diverse fields through the merit badge program.




Meetings are held on Tuesdays
7:15 - 8:45 PM
First United Presbyterian Church of Dale City
Minnieville Road and Cardinal Drive
For more information please contact:
Scoutmaster, Jeremy Wood (703) 583-8782,  This e-mail address is being protected from spambots. You need JavaScript enabled to view it

Boys in Elementary School or under 11 years of age please contact our partner Cub Scout Pack 1964, sponsored by FUPCDC, at
 their website at https://sites.google.com/site/woodbridgepack1964.  
For more information on Scouting requirements go to http://www.boyscouttrail.com/.  



Map

Any questions regarding the Troop internet should be directed to  This e-mail address is being protected from spambots. You need JavaScript enabled to view it   
(Note: If viewing this website with Internet Explorer Version 8 you will need to select the compatibility button to view it properly)